Expert's Edition: How to Create Mid Century Modern Interiors?
The mid-century modern style is admired by design enthusiasts, but what exactly is it? This interior design style gained prominence in the 1940s and has yet to fade from the spotlight for good reason. The style has an undeniably timeless appeal, defined by clean lines, organic forms, minimum adornment, and high functionality for your Sydney home.
Mid-century modern decor is simple to live with, instantly stylish, and ideal for both period and contemporary homes. It's also a look that can be blended with other styles. While some families choose for a completely mid-century modern home, anyone can easily integrate this design into their living rooms with a few small fixes.
What is Mid-Century Interior Design?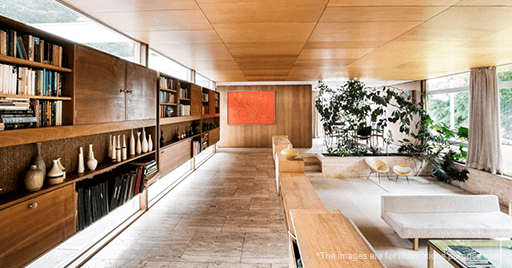 Mid-century contemporary interior design combines natural woods, vibrant colours, slightly quirky furniture designs, organic curves, and tapered legs, all of which are inspired by mid-century modern style. These spaces are pleasant, allowing for lounging, relaxation, and conversation. This style is also fond of patterns, which are frequently combined with geometric and organic designs. Mid-century modern interiors are a sight to behold, combining functionality, simplicity, and elegance. People continue to recreate this style in their Sydney homes, indicating that it is timeless. If you are thinking of renovating your home recently try our complete furniture packages and our experts will take care of rest.
If you adore this decor, there are a plethora of ways to integrate it into your home. We've got some top tips and gorgeous Mid-Century modern decor ideas to get you inspired, whether you're into design or just want to add a Mid-century modern vibe to your Sydney home.
Mid Century Modern Interior Design Ideas
Strong Color Palette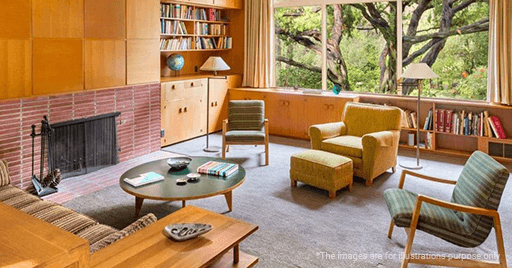 A bold colour pallet epitomises mid-century modern style. Colours like orange, avocado, and other dark pastels make a bold statement and may be readily combined with neutrals like white or grey. The mid-Century design emphasised the use of vivid colours in modern homes.
Accents of vivid hues like these add life to today's modern homes and, depending on the tone, can give your space a nostalgic touch. However, you might go with a neutral colour scheme and let the furniture's shapes do the talking.
Also read: Expert Opinion on choosing Right Color Palette
Bring Wooden Elements Back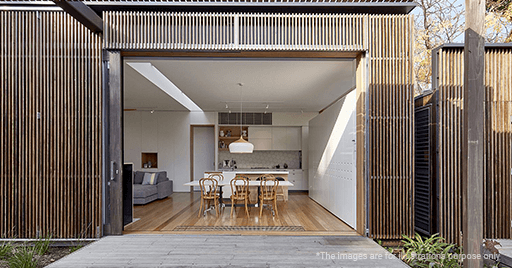 Engineered pressed wood makes up the majority of today's furniture. Allow real wood to take centre stage with the help of 1950s high-end furniture for mid-century modern interior design. Teak, walnut, oak, and rosewood are used to create these mid-century masterpieces. There are a variety of modern-day replicas available that closely resemble these elements.
Warm-toned woods like walnut, mahogany, and cherry are common in mid-century modern furniture. This design style is characterised by wooden floors, furniture, and even walls.
Clean Lines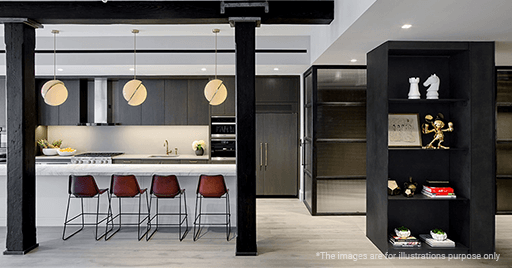 With a mid-century modern style, simple shapes and clean lines are the themes of the day. The conclusion of the narrative in mid-century design is "style follows function." Concentrate on finding modern furniture that is both comfy and livable. That isn't to say that appearance isn't essential!
Focus on clean, sleek lines in your furniture while designing a Mid-Century Modern living room, dining room, or bedroom. The minimalist side of this style will appreciate the clear lines. Tapered sofa and chair legs are common, as are geometric shapes. Frills, bows, and ribbons are not to be found here!
Furniture Style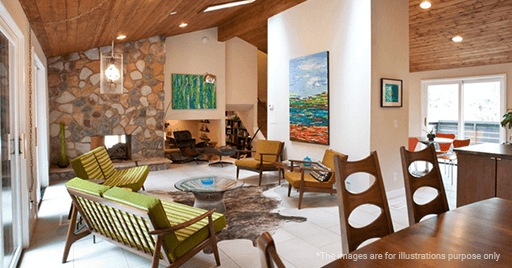 Even if you don't own a Mid-century home, you can still enjoy this style.  Mid-century wooden furniture has a timeless charm, which sits well with other styles both old and contemporary, thanks to an emphasis on basic lines and purity of design, along with the enduring beauty of wood.
When it comes to mid-century modern decor ideas, formal and utilitarian furniture is a must-have. This style is characterised by the excellent texture of the furniture, which has sleek lines and curved bases with smoothed edges and no adornment. Stick to the "less is more" rule and look for a signature piece that will tie everything together.
Lighting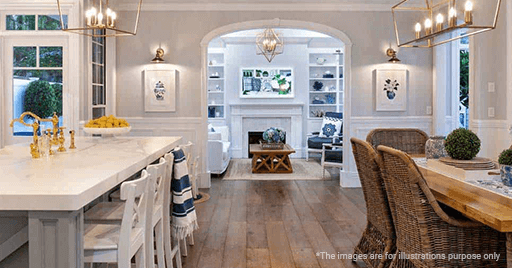 Decorating styles come and go, but mid-century modern décor, particularly lighting inspired by this era, is here to stay—forever. Floor, desk, or table lamps with basic, geometric, curving shapes, as well as ceiling lights with exposed bulbs on asymmetrical designs or radiating rods, are all examples of mid-century modern lighting.
It's crucial to keep in mind that the goal with each piece is to be inclusive, straightforward, and fuss-free at the same time.
Are you ready to turn your house into a mid-century modern paradise? You can add a touch of this classic style to your house in a variety of ways, from tiny additions to a total overhaul, the choice is entirely yours!
Our easy mid-century modern interior design ideas will give your Sydney home a fresh new look without going overboard!