Easy and Elegant Christmas Decoration Ideas For Your Home
The holiday season is around the corner and the excitement is in the air. You must be searching everywhere on the internet for some decorating ideas. There's a good chance you'll be ringing in the holidays by adorning your house with sparkling, colourful decorations for Christmas. Christmas, more than any other season, is the perfect time to flaunt your creativity and design aesthetic. There are so many decoration ideas that can bring your home to life for the holidays, whether you're obsessed with finding the right area to hang festive lights, spotting interesting crafts to liven up your living room mantel, or settling on eye-catching table settings.
We all know it's the most beautiful time of year, but do you know what makes it even more so? Creating a festive atmosphere in your Sydney home by putting up some Country Christmas decorations and bringing the Christmas mood into every room of your house.
Take some inspiration from these fun and festive decorations ideas for both large and small rooms. We bet you'll find something you want to recreate on this list, whether you prefer traditional decor or something a little more out there. We have summed up all the decorations for Christmas!
Go for a Rusty Christmas Decoration Theme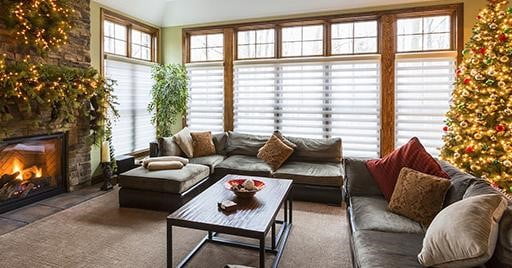 Go for some Rustic decorations. Rustic decorating accessories are the best way to make your house seem more inviting and appealing during the holidays. There's something for everyone, whether you like plaid prints, mason jar crafts, burlap, or wooden elements. This Christmas decoration idea is very simple to put on!
Must read: How to decorate your home like a pro
Christmas vibes with fairy lights  

It's that time of year when we want everything to sparkle, from our tree to our clothes to the outside of our house. String lights offer a whimsical touch that makes everyone feel a little nostalgic. There are several outdoor decorations for Christmas light ideas, but don't overlook the use of lights for inside decor.
Christmas decorations draped across mantels or stair wooden beams are simple to integrate lights into. The addition of battery-operated lights to mason jars creates a lovely centrepiece. String lights are second only to Christmas tree toppers as one of the greatest ways to decorate Christmas trees.
Hang Christmas lanterns from low tree branches or stair stoops. Colourful lights can be used to outline your front entrance. A lit-up outside tree is also a wonderful addition. Make trees out of fairy lights to make an evergreen forest in your yard. When it comes to string light decorations, there is no such thing as going overboard. This is one of the widely used holiday decorating ideas.
Holiday Decorating Ideas: Add Hanging Decorations

One of the simplest decorations for Christmas is to add hanging decorations. They add a charming rustic touch to a scheme and look great grouped together. They're just clear thread to the light fixture, but the effect is wonderful as they hover above the dining room table. To make the simple decorations into a true main point, use different sizes and hang them at different levels.
Also read: Accessories you must have to style the house
Don't forget the front door decoration for Christmas 

One of the important Christmas decoration ideas is to deck up your front door. The focal point of your entry is your front door, which is generally the first thing people see. When designing your Christmas decorations, keep this in mind. Start at the centre and work your way outward, starting with the entrance. Every time you return home in Sydney and your friends pass by, this area offers a variety of possibilities for spreading holiday cheer.
Add some colours

Another simplest holiday decorating idea is to replace your standard couch cushions with ones in festive colours, and add a plaid blanket or rug for a splash of colour. To fully increase the Christmas feelings, just place giant bows or sprigs of fresh pine on already existing decor like picture frames, mirrors, and bookcases.
Christmas miniatures as decorations should be placed on glass cabinets and shelves, and strings of fairy lights should be draped around window sills and display cases. Candles, pine cones, and citrus fruits put casually will further add to the family room's warmth.
Must read: How to design a small living room
Add Wreaths to your Christmas Decoration 

This year, rather than confining supersized wreaths to the front door to be admired just by visitors and passers-by, bring all that gorgeous ornamental greenery into your house as well. A big wreath as a holiday decorating idea creates the perfect festive yet simple background for a Christmas table, or bring it into your living room for a festive touch, or hang it in your foyer to make an effect as soon as visitors enter your home in Sydney.
Plus, you may choose the greenery that best suits your aesthetic, such as fire, ivy, and holly for a more classic look, or eucalyptus or huge waxy magnolia leaves for a more contemporary effect.
Light up some candles

Candles are a classic way to create a happy atmosphere in your house and they add as the best decorations for Christmas. While unscented candles should be exhibited on your table while food is being served, scented candles placed around your home are a terrific way to create atmosphere and make any area feel cosier. Remember to choose a scent that will remind you and your visitors of the season."
The Showstopper of Country Christmas Decoration 
    
The tree, of course, is the ultimate Christmas show stopper in Sydney! The tree symbolizes the Christmas spirit, standing tall and crowned with a gleaming golden star or delicate-winged angel. Don't deviate from tradition this year; instead, go all out and deck it with eccentric and distinctive Christmas decorations. Family photo ornaments, handmade felt hanging decorations, and hand-painted wooden and glass baubles will elevate and personalise your tree.
We hope you are all excited to decorate and furnish your house this holiday season.
If you are Sydneysiders do visit our showroom or contact us to get a free consultation on customised furnishings!
Thanks for reading!