Simple Decorating Rules for Room Furniture Layout
Coming up with living room layout ideas in Sydney around arranging furniture is a difficult task. When you're faced with an empty room, it can be difficult to fill it in a way that is both functional and attractive to the eye with the layout ideas. Interior designers have identified a number of simple, easy-to-apply principles that work with room layout throughout time. If you follow these simple guidelines, you'll discover that room arrangement with furniture isn't so difficult after all.
101 Room Layout Ideas: Decide on a focal point.

Never underestimate the importance of an idea along with the main point. Sometimes they arise naturally, such as if you have a large window or a built-in fireplace mantel, while other times, such as with TV stands and televisions, you may need to make room arrangement ideas yourself. Make a furniture layout and stay with it, whatever your ideas are in Sydney. You'll want to organise your furnishings as much as feasible around it.
Also read: 5 tips to furnish your home for the first time
Pushing furniture against the walls is not a good room arrangement idea.

The size of the living room will determine how far you can move your furniture away from the walls, but even in a small area, you'll want to leave a few inches between the backs for your furniture pieces and the walls to give them some breathing room. Contrary to conventional assumptions of room layout ideas, the room layout can actually make spaces appear larger. Of course, if you have more room, you can do with your room arrangement with furniture so that conversation zones are established in the centre of the room, with several feet between the walls and the furniture.
Create areas for interaction.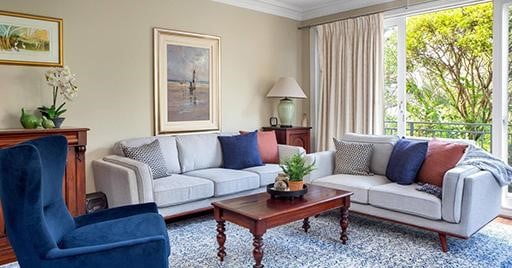 While making living room layout ideas people should be able to communicate with one another without having to crane their heads or shout across the room. Place the sofas and chairs so that they face each other (not directly, but close enough) and so that people can chat without raising their voices. Create different talking spaces if the room layout is too big.
When arranging room furniture layout, strike a balance.

When it comes to decorating a room in Sydney according to a room furniture layout, balance is crucial, and nowhere is it more vital than when placing furniture and other items in your living room. Consider the room layout size and placement of the various items, keeping in mind that grouping all of the large or small objects in one area or on one side of the room might make the space appear unbalanced and disturbing. Also, make sure there's a range of shapes in your living room if you have straight-lined seating, for example, a round coffee table would be a good fit with your room arrangement.
Must read: Style tips for lounge room
Consider the flow of traffic.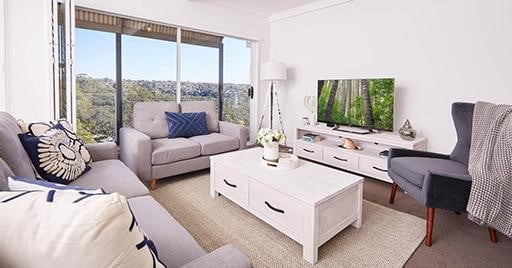 When planning room furniture layout in any area, one of the most crucial factors to consider is traffic movement. To pass through the room, people should not trip over furniture or one other. Allow a couple of feet (plus or minus a few inches) between the coffee table and the sofa, as well as between the chairs. Make a clean path in the living room layout so that people may easily stroll from one end of the room to the other.
Use Correct Size of Rugs for room

If you can handle it in Sydney while making the room layout ideas, place area rugs beneath all of your furniture. It's alright to expose some flooring around the room's perimeter, but when utilizing an area rug, make sure it's large enough to accommodate all of the room layout with furniture in a seating arrangement. Large objects should at the very least have their front legs resting on the carpeting (the backs can be on the floor, if necessary).
Invest in a substantial coffee table.

When it comes to coffee tables, bigger is almost always better. A huge coffee table in the centre of a seating area is both attractive and practical with a good room layout. It serves as a focal point for the space, with enough room for others to set their drinks or for you to exhibit your favourite accessories. A large table also makes it easier for those sitting around it to get to it. However, in Sydney, the living room layout ideas ensure that there is sufficient space between the chairs and the coffee table for people to pass past (about 18 inches). If you can't find a large enough coffee table, two smaller tables or another coffee table alternative may suffice.
Get in touch with our team who will guide you through the process, we have professionals that are experts in the field that will help you through all the different furnishing packages we have to offer so do check them out on our website.
Thanks for reading!