How to Design a Small Living Room
Nothing is more of a buzzkill than a small & cluttered living area. It is difficult to make the best use of it, entertain company, and it frustrates every time you even look at it. But what if I told you that there is a way that you can create an illusion of making it appear bigger than it actually is? No, no, it's not magic. It's the science of interior design.
Follow the below mentioned tips to get the living room of your dreams. Doesn't matter if you rent it or own it, these tips will do justice for you! If you are not confident to pull it off, or lack the sense of design, you can always leave it to the pros, and opt for complete furnishing solutions in Australia (https://vivinfurnishings.com.au/ dofollow)!
How to Design a Small Living Room?
1. Choosing the Right Furniture
The most important feature of a living room is easily the sofa. Now, you don't want a sofa that looks heavy to the eyes. It should have a small profile, so that it does not appear to take more space. The sofa you choose should sit on exposed timber (or some other wood) legs. This facilitates air flow throughout the space.
2. Angle the Furniture
Now that you have chosen the right furniture for your living space, its time to place it strategically. You don't want to place your sofa clinging to the wall, or even parallel to it. Be brave, make some definite angle with it! Step out of the traditional layouts to make a striking first impression on anyone that walks in!
3. The Coffee Table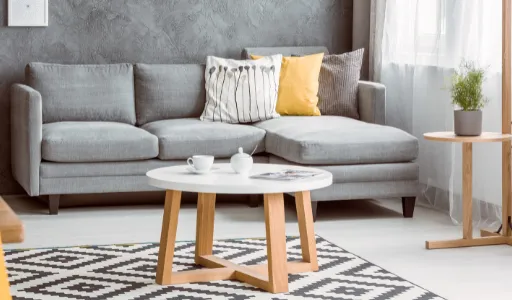 Well, the coffee table essentially becomes the feature that brings the whole living space together! So, picking up the right coffee table is a critical sport. Again, your living room is small, so should be your coffee table. The best way to go about it is small, round, compact, as well as layered. These layers will also allow you to store magazines, etc., that you like to put on your table, without taking any extra space. You can even use a side table as a coffee table.
4. Put Down a Big Rug
A rug subconsciously instils in our mind the area of the living space. If you put down a small rug, it will reflect in your mind that the space is small, and vice versa for a bigger rug. Thus, a bigger rug is another way to create the illusion that the space is bigger than it appears.
Also Read: Styling the Perfect Outdoor Living Space (https://vivinfurnishings.com.au/styling-the-perfect-outdoor-living-space/ do follow)
5. Lamps & Light Fixtures
The rugs do a good job enhancing the horizontal sense of area, but we need to go vertical too. How? Easy, with the help of tall lamps and light fixtures fixed high on the wall. They not only entice the eye upwards, but also increase the flow of light in the space. Two targets with one arrow!
6. Play with Mirrors
Mirrors never go out of style. Always chic, and never unsophisticated. Mirrors add depth in a space, in a very classy way, and also act as an accessory added to the room. It reflects light, which again facilitates its flow in the area and tricks the eye to think the space is bigger than it seems.
7. Ottomans for Extra Seating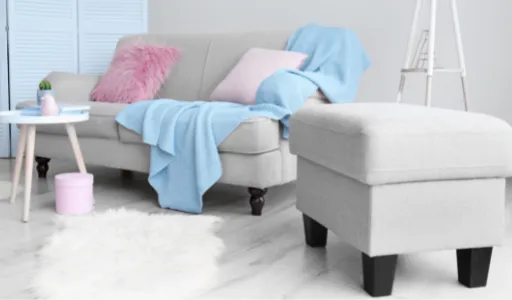 Small living room? Worry not, Ottomans are here for your rescue! The best part about Ottomans is that they can be used as footrests for your own use, however, if you have company over, you can use them as extra seating to watch your favourite program on the TV together. You can even use them as a table if you have company! 3 targets with 1 ottoman, how cool is that?
8. Wall Hangings
Another way of creating a balance in horizontal and vertical space is wall hangings. Now, this could be anything, from plants hanging from the ceiling to a chair hanging from it, or from artwork to book shelves. Just, anything that adds verticality to your space, and suits your taste. Just make sure it's on the free-er side of the space.
Conclusion
The best thing about designing your own living room is that you can play with colors, wall art, lamps, etc. If you don't like it, you can always shuffle it! You can either go for neutral wall papers or bring the space together, or go with vibrant colors so that every feature of your décor stands out!
Thanks for reading!