How to Choose between a King Size Bed and a Queen Size Bed?
In the market looking for your next comfy case? You have landed at the right place to make the decision of your lifetime because the one thing that remains relatively constant, is the bed we come home to each night!
Do you want the Queen Size Bed, but your partner thinks that King Sized Bed is the way to go? This blog will help you pick the right bed for you.
Let's get into this… but first, do you understand what really is the difference between the two?
What is the difference between a King and Queen Size Bed?
Parameter
King Sized Bed
Queen Sized Bed
Dimensions

60 inches wide, 80 inches long

76 inches wide,

80 inches wide

Surface Area

4,800 square inches

6,080 square inches

Best For

A couple

A couple with a small child
Now that we have the technicalities out of the way, let's discuss the factors that will help you decide whether the king size bed or the queen size bed is the way for you.
Also read: How to Style Your Bedroom (https://vivinfurnishings.com.au/how-to-style-your-bedroom/ do follow)
How to Choose between a King Size Bed and a Queen Size Bed?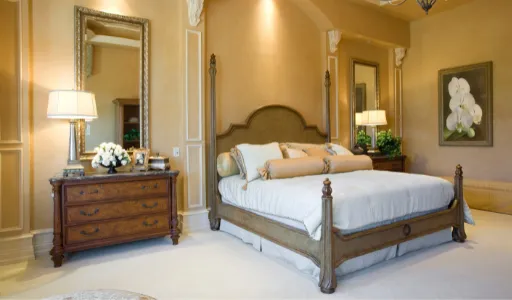 Follow the below mentioned points to find the perfect fit for you!
1. Area of the Bedroom
The ideal way of placing your bed is by leaving 2 feet of space on either side of it, and 5 feet of space at the base side of the bed. Now after doing so, comprehend how much room you have got left to place your bed.
This thumb rule of pacing your bed ensures that you don't feel claustrophobic while sleeping, as that leads to disturbance in your sleeping pattern, and so that your bedroom does not feel small.
Another factor to keep in mind is the secondary furniture you have in your bedroom, be it side tables, chairs, or an ottoman. These also occupy space; hence, it is essential to decide between king or queen size beds, keeping them in the frame.
2. Number of Sleepers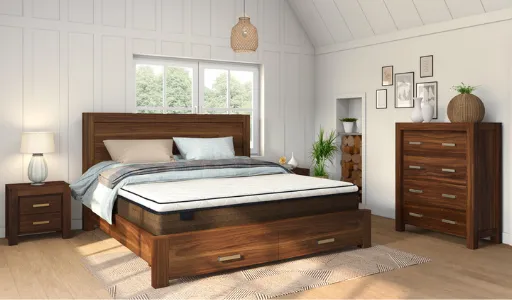 Is it just you and your partner sleeping in the bed, or do you have a young child sleeping with you, as well? This is important to decide which bed is the best for you.
If it's just you and your partner, a Queen sized bed will do justice! However, if one or both of you need more space to sleep, then definitely go for a king-sized bed!
On the other hand, if there is a young child who likes to snuggle with you, you would be better off with a king size bed, so that everyone has plenty of room to sleep comfortably.
3. Frequency of Moving
If you are one of those families, who have to move a lot, shifting a huge king size bed from city to city, and across states would not be an easy job! Even the mattresses for a king-sized bed are extremely heavy. In that case, you are well off with a queen-sized bed. Thus, it is necessary to make sure whatever bed you choose, it is easy to move while shifting residences.
4. Location of Bedroom
This might seem silly at first, but just hear me out. Now when you are purchasing a bed, you have to take into consideration where you master bedroom is. Is it at the end of the house, is it on the first floor, or is it on the second floor? Why is this important? Well, because mattresses and beds are heavy and not easy to maneuver. Hence, decide on the basis of logistics involved to place the bed in your master bedroom.
5. Budget
How can we decide on a bed, without deciding the budget we can spend for it? The cost of a bed not only depends on the size of it, but also on the quality of it. Make sure you choose a bed where the price and quality come together in equilibrium.
Conclusion
I hope you can finally settle the fight between you and your partner regarding which bed is the best for you. Whichever one you choose, make sure it makes you happy! However, if you are still not sure, just contact a complete furnishings solution in Australia (https://vivinfurnishings.com.au/ do follow) service and get the job done in no time.
Thanks for reading!