How to Furnish your Reception Area like a Pro
Ask yourself- what is the number 1 factor that draws a potential client towards you or your brand?
Still wondering?
It's the very first impression of your brand! Simple as that!
And what better way to create a first impression, if not through a perfectly furnished reception area? The very first place a client walks into!
Now, the art of choosing the right office reception furniture may seem an easy enough feat to master, however, there's a definite science behind it to achieve a truly professional reception area. You can either choose to do it yourself or hire a service of complete furnishings solutions in Sydney (https://vivinfurnishings.com.au/ do follow).
Without further ado, let's get into this!
How to Choose the Right Office Reception Area Furniture
Let's begin with the basics…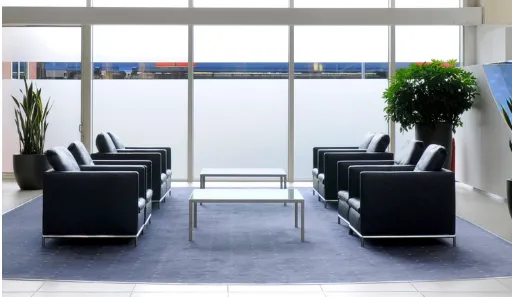 Energy & Atmosphere
The moment a client walks in, the first thing they experience is the energy and atmosphere of the reception area. Thus, it's the first thing we will discuss here! Now, you can either go for making a powerful, business-like statement, or you can go for a relaxed and friendly environment. Whichever way you wish to go, you can achieve that by playing with two simple factors:
Color scheme – Your color scheme can make a far more powerful statement than you could imagine. Thus, if you take the professional path, go with neutral shades. But warm hues are the way to go if you want to for a warmer & more welcoming feel.
Light – Count yourself lucky if you have natural light flowing through windows and light up your reception area. But if you don't have that luxury, go for soft lighting through table lamps and small fixtures.
Office Reception Desk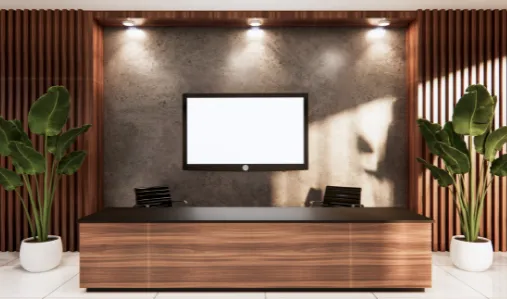 If we talk about small office reception area design ideas, the reception desk is by far the most important factor to take care of. It should be welcoming, and yet authoritative. Let's explore how to choose the perfect reception desk.
Comfort – Why am I discussing comfort over functionality? Because, that definitely comes first. The receptionist needs their privacy and comfort to sit at the desk for long hours.
Functionality – A modern reception desk should be extremely functional as well, with plenty of storage and ample space for the receptionist to work comfortably.
Seating Plan
Planning the layout of your reception should be in a way so that you make the best out of the available space. You can go for both chairs and lounges to create an optimal seating plan. Let's explore how!
Chairs – Your reception area also serves as a waiting room. Thus, chairs are a must. Sometimes, this waiting can be for a couple of hours as well. Thus, the chairs you choose should be comfortable and durable for the long run.
Lounges – Now, it's only natural that people have the need to feel more relaxed while waiting. *Enter Lounges*. Placing a set of lounges in the perpendicular direction to the chairs is a great way to provide space for movement. Setting a few magazines on the coffee table is a bonus!
Also Read: How to Style Your Home Office (https://vivinfurnishings.com.au/how-to-style-your-home-office/ do follow)
Accessories
Accessories are another office reception area furniture that are essential to ensure optimal functionality of the area. The two most important ones being…
Coat Rack – A coat rack is by far considered the least fashionable yet most invaluable accessory you could add to your reception. Maybe it's too windy outside today, maybe it's raining, people would want to remove their jacket/coat upon entering. Make sure you choose an elegant coat rack with hooks covered with plastic balls to ensure coats don't suffer tears.
Storage – In order to have an organized cabinet filing method, the reception area needs to have adequate storage solutions. It helps to reduce clutter and also provides for a space to store all necessary office supplies.
Office Reception Décor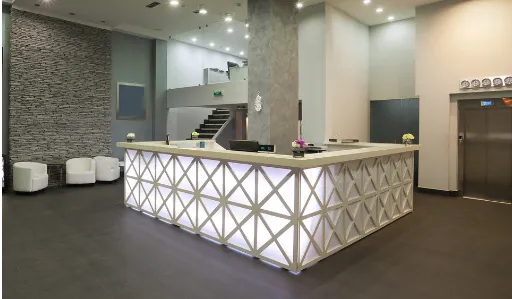 There's no furnishing party without beautiful décor! Let's see how you can bring this party to your reception and liven it up
Artwork – If you are wondering whether or not your reception needs artwork, let us tell you, there is only one right answer. Yes, it does! Subtle artwork can provide just the pop of color that a reception/waiting area needs. It works best if you go with neutral colors and natural lighting!
Book Shelves – Another way to add some spice in your décor is by choosing some eloquent book shelves. You can never go wrong with book shelves in your reception, as long as they go with your color scheme. They easily blend in the professional vibe you are trying to achieve!
Conclusion
Just remember- you don't get a second chance to create the first impression! Make sure your clients feel the electric vibe of your company and feel excited to work with you as soon as they walk in!
Thanks for reading!