Clever Ways To Stage A Dining Room To Win Over Your Buyers
Are you thinking of selling your house? Then it's time for you to do home staging the right way and put yourself in the shoes of a buyer. Think about what they want to see and implement that into the home. This is one of the keys to decorating. The dining room is the second busiest room after the living room. Sharing a yummy meal with your family, maybe having some discussions, and so on. It is always best to take the simple route when it comes to the dining area. But just because you're making it simple doesn't mean it has to lack in style and elegance. 
Here are some tips you can utilize while staging your dining room.
Start Off Simple
The best way to begin is with a blank canvas. Remove all the furniture, small trinkets, and other accessories until you just see the wall and floor. Now begin the mental visualization of the whole space and start identifying where you would like to place the big pieces first, then the smaller ones, until you can see the final result turn up in your mind. We all know the most important piece in a dining room is the dining table and chairs. Keep that as the main focus and build the rest of the dining room around it. This will help you visualize faster and better.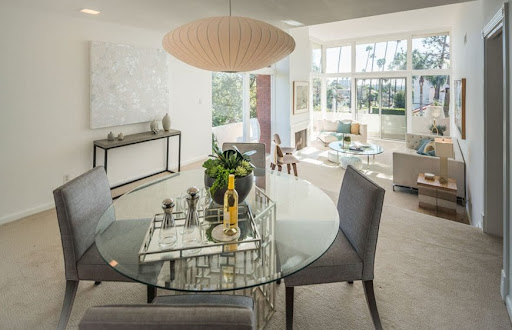 Choose the furniture
There is always an abundance of home staging furniture but some thought needs to be put in before finalizing them. Before buying a dining set take into account the size of your home, if it's a large 3-4 bedroom house then you can consider putting in a larger dining table, if it is a smaller home then a 4 seater dining set should suffice. After you know what kind of customers will be coming in then you can go ahead and finalize on one set. Make sure it goes well with the aesthetic of the kitchen and living room if they are together.
Depending on the size and shape of the room you'll have to choose between wide, round or even narrow long tables. One thing to keep in mind is to make sure there is still enough room around the table comfortably. If you do have a smaller home opting for round tables or glass tables is the way to go as they possess more visual space creating the illusion of a larger room.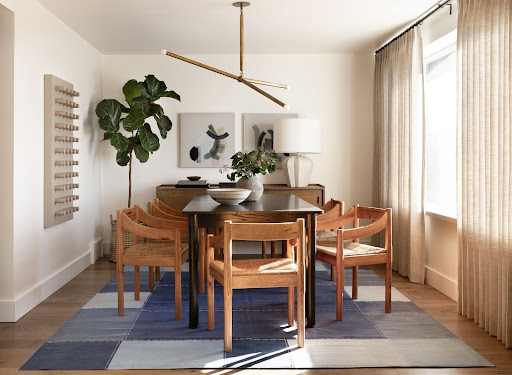 Light It Up
Another key ingredient for staging a dining room is the lighting. Have one overhead light that can spread across the room and smaller spotlights usually around the corners of the room to highlight certain areas. Colours of the lights are also quite important. You don't want to go with a super bright white light but instead opt for warm white since it is more easy on the eyes and also provides enough brightness within the space.
Sconces and floor lamps are another great way to bring light into the room in a more traditional fashion. The other best part about them is that they are usually affordable and look elegant.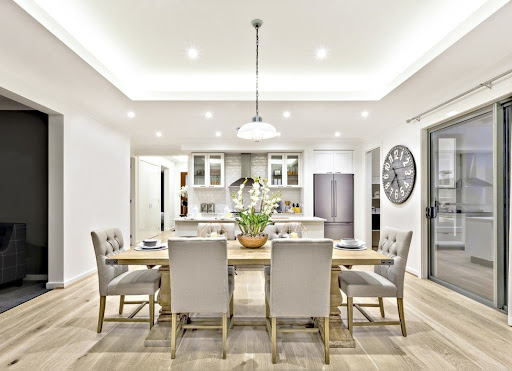 Time To Accessorize
Now that you have handled all the key components in the room it's time to have some fun and add in other decorations. These decorations can range from mirrors, to wall art, to artificial greenery, and to personal memorabilia. Try not to fill up your space completely with these items and maybe pick just one or two from the lot to act as a statement piece. For the floor you can add a simple rug that doesn't stand out too much but provides you with a sense of warmth and peace. Customised furniture can also be added in if they don't take up too much space.
Placement is key here since you don't want to make the room look cluttered so do some trial and error to see which positioning of the items works best.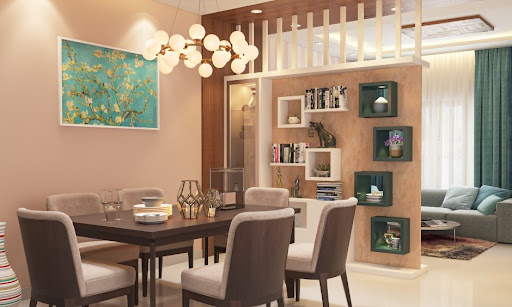 Conclusion
Hope these pointers have made their way into your mind so you won't forget them in the future. If you are now ready to begin staging your dining room you can visit our website to check out our furniture packages with customised furnishings and great designs. It's totally worth taking a look at. You can also call our team at Vivin Furnishings where we guide you through the whole process.
Thanks for reading!