10 Ultimate Wine Storage Ideas To Display Wine Collection
Wine is one of the must-have luxury items people keep in their homes, whether they're a big connoisseur or not. A wine cellar is a great addition to most homes and can be built with relative ease.
In this guide you will go through the best wine storage ideas to store your wine collection. The wine room is a fun and practical addition to any home, with the opportunity to store and display your collection in style. If you're thinking about creating a wine room, there are countless ideas to inspire you. Sydney-based Vivin Furnishings customized furniture packages can help you create a spectacular home wine cellar.
Tips For Storing Wine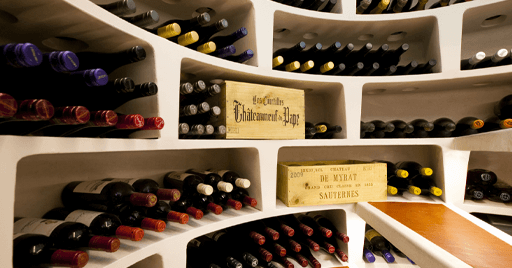 Did you know that the finest wines are aged and enjoyed in climate-controlled rooms? So before setting up your own wine cellar, you'll need to consider the best practices for wine storage ideas.
Your wine cellar room should have a temperature between 45 and 65 degrees (55 is the optimal wine cellar temperature) and humidity levels between 50% and 80% to protect your wine collection
Avoid rooms with lots of windows because direct sunlight is bad for wine. Dark areas such as basements, pantries, closets, enclosed cabinets, and drawers are ideal for wine storage
A wine room is the perfect place to store your collection and enjoy your wine in peace. But if you're not sure how to design your new space, never fear! Here are 10 wine cellar ideas to help get you started.
Be Underground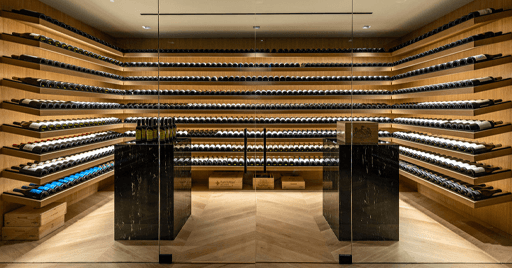 You can store wine underground if you do not have enough space upstairs. This is a space-saving method of storing wine, and you do not need an underground cellar or basement. In addition to the concrete construction, a natural ventilation system built into the ground creates the optimal humidity and temperature conditions for storing wine. Since basements have cooler temperatures, there may be an ideal wine storage cabinet. Underground wine cellar ideas are very popular in Sydney.
Mudroom wine storage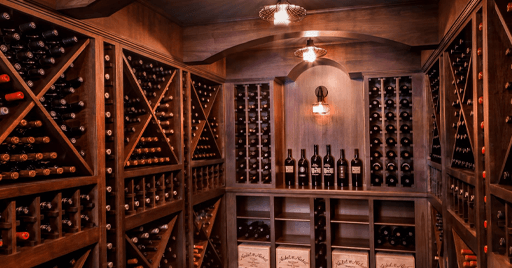 As mudrooms have ample storage space and are typically close to the kitchen, they are ideal spots for wine cellar installation. You can store your wine in your mudroom cabinets with a wine shelf or storage drawers. White wines can even be kept crisp and cool with a wine cooler.
Place wines in the dining room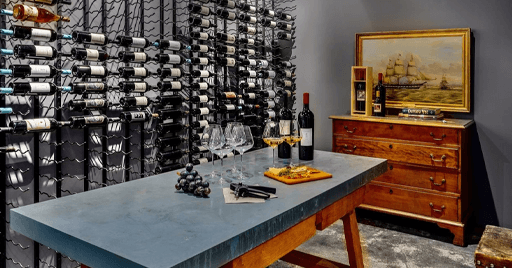 You can choose the perfect wine for the perfect dinner party from the comfort of your dining room table! Including glass doors, temperature control, and floating wall wine racks, a dining room wine wall will provide a stunning centerpiece. You can also build a wine storage cabinet or shelves into hutches,  or dressers for a cheaper alternative.
Design Living Room Wine Storage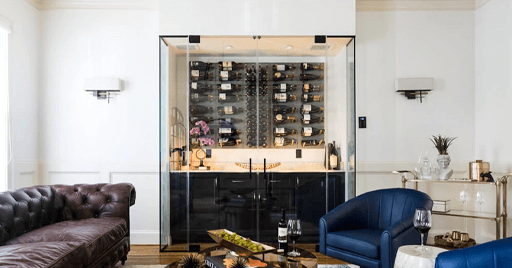 Having a living room wine cellar may not only be an interesting interior home decoration  but it can also help keep your wines conveniently at hand whenever you're entertaining guests at home. Turn the idea of storing wines into art by decorating wine storage with various items like floating shelves, repurposed dressers, transformed bar carts or cork catchers. Various wine storage cabinets can be found in Sydney that are perfect for showcasing wines.
Build a luxury wine cellar under the stairs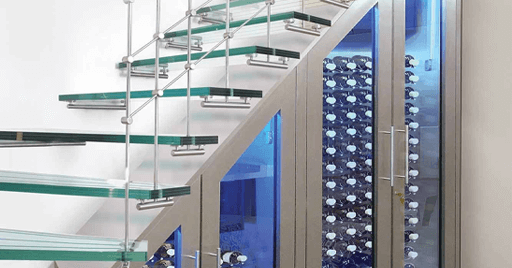 An under stairs wine room is an excellent way to store your wine collection in your home. Carve out a mini wine cellar with a cooling system and glass doors as an elegant way to add luxury to your space. Or opt for something much simpler by installing stair cabinets or drawers to store it in a dark, hidden area.
A Guide to Designing and Organizing a Wine Room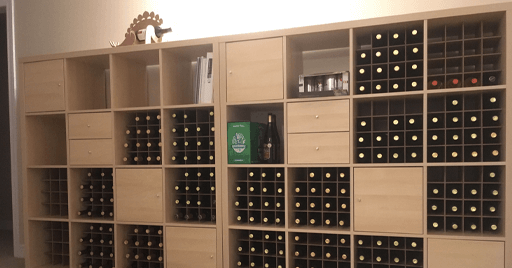 When building a home wine cellar, it is extremely important to have a solid plan of action. This will help make sure your wine room looks great and that your expensive collection is kept safe from any harm.
Install Durable Flooring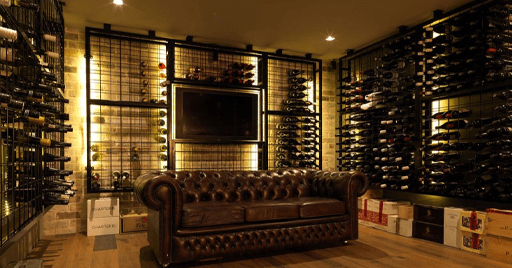 If you're designing a wine cellar, be sure to install durable flooring! In Sydney, Australia, hardwood and tiles work well in upper level wine cellars, as does cork. Concrete flooring is popular in lower levels because it's moisture resistant.
Separate the Area with Paint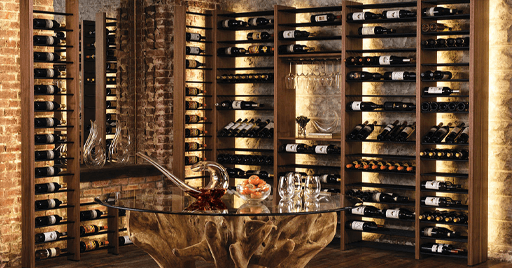 Is your wine collection displayed in an open area, such as a living room or dining room? Use a bold color to draw attention to it. Dark colors mimic the look of bottle encasing, which can make it easy to see in a brightly lit space. You can also adorn a wall with a wine collection. By displaying them where you can see their labels easily too, you're ensuring that you fully appreciate each bottle's distinctive flavors.
Add a tasting table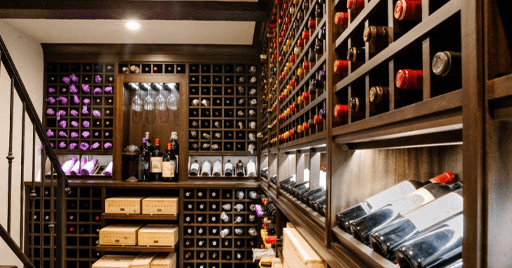 A narrow wine cellar table or island that you can use for tastings will impress visitors and make your wine room look polished. Add wine glass storage, bottles, decanters, and chillers to make your wine tasting experience more luxurious for you and your guests.
Customize a Credenza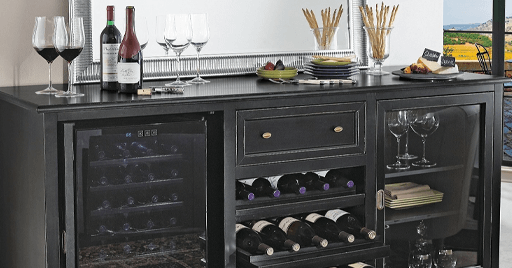 Adding furniture pieces to your home can also serve as a wine storage ideas. Beautifully finished credenzas with vintage hardware are ideal for blending with existing decor in any room and providing hidden storage for home wine cellar
Frame the Fridge with Wine Storage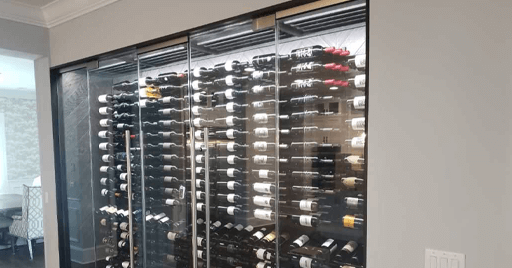 If you're looking to add a home wine cellar but are limited on space, get creative with your storage solutions! If your wine room is part of your kitchen, take advantage of vertical storage by building cabinets and racks around major appliances like the refrigerator. Incorporating storage into your kitchen appliances is also a great way to boost its value if you're looking to renovate.
Whether you are building a new home or just remodeling an old one, you have a great opportunity to create a special place to store your wine. Wine cellar design is an area that deserves your full attention because no other room in the house comes close to offering the perfect environment to preserve the taste, aroma, and quality of your wine collection.